Uncle Bill's Farm in Grinnell, Iowa is the place to take your loved ones to enjoy plenty of family friendly fun!  We have lots and lots of safe, farm-style attractions that many thousands of folks have enjoyed for over 25 years.  No matter the weather, the farm has plenty of indoor and outdoor fun on tap as well as several picnic shelters, indoor rest rooms (not portables) and free parking.  Folks look forward to all the new things Uncle Bill adds to the farm fun each year.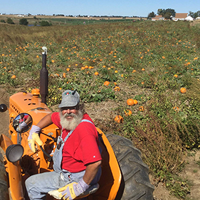 10 Acres of Pumpkins
Weather and ground conditions permitting, take a wagon ride to the field to pick your own very special pumpkin.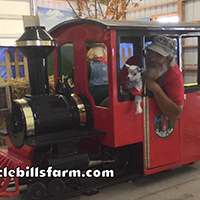 Uncle Bill's Train Depot (Weekends)
Every weekend ride the Uncle Bill Express train and have some fun.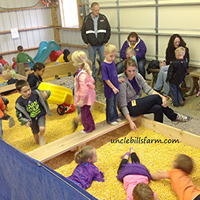 Corn Pool
Always a farm favorite! Swim in bushels of fun in our giant Corn Pool.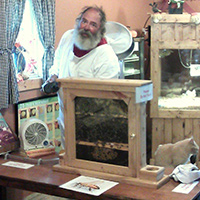 Indoor Glass Bee Hive
Without bees, Uncle Bill wouldn't have pumpkins! Now you can see what the inside of a real bee hive looks like and learn all about the importance of bees.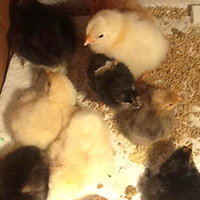 Chick Incubator & Brooder
You can see real chicks hatching through the glass door of one of our incubators and watch newly hatched chicks in the brooder.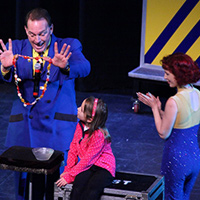 Live  Entertainment (Weekends)
Every weekend you can find hourly, family friendly shows on our Big Barn Loft Stage.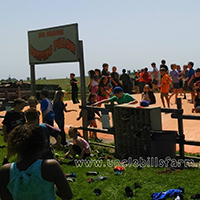 Giant Jumping Pillows
Kids and adults love these Giant Jumping Pillows. One Giant Jumping Pillow is for the Big Kids and the other Pillow is for the Wee Ones.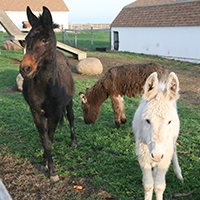 Farm Animal Haven
Feed the precocious pygmy goats and watch them climb the Golden Goat Bridge. Toss the chickens some feed and watch them scramble to peck at it. Elton & Lily the mule and donkey enjoy visitors. From time to time there will be other special animal residents to see.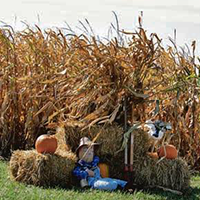 Giant Corn Maze
A new corn maze designed to top the list of great fun on the farm.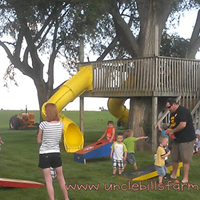 Farm Playground
With super slides to get you down from a bird's eye view of the farm-boys and girls are sure to enjoy some tree house time. The Pumpkin Play House is decked out with lots of fun things for imaginative play time.  We also have teeter totters, trikes, wooden tractors and trucks as well as other old fashioned playground equipment.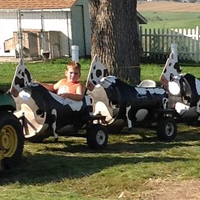 Kiddie Kow Train (Weekends)
It's as much fun to watch the kids riding the Kiddie Kow Train as it is for the kids riding in the barrel shaped cattle cars. Come join us Saturday and Sunday for a fun ride around the farm.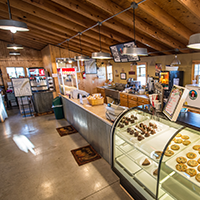 Gift Shop and Restaurant
Playing at the farm makes everyone hungry and thirsty and Uncle Bill has all sorts of delicious food and drinks for you!  Uncle Bill is serving up pulled pork sandwiches, chili, nachos, and hot dogs.  For your sweet tooth, there are caramel apples, freshly popped kettle corn, cookies and donuts.   There are always fountain drinks, apple cider, 100% apple juice, hot cocoa, bottled water, coffee and cappuccino available to warm you up or cool you down.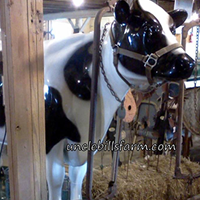 Maizie the Milk Cow
Experience what it is like to milk a cow. Maizie is a life sized fiberglass cow that children enjoy "milking" and having pictures taken with.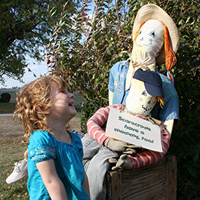 Photo Opportunities
Say pumpkin! Take advantage of our decorative, fall-themed backdrops for family and group photos!