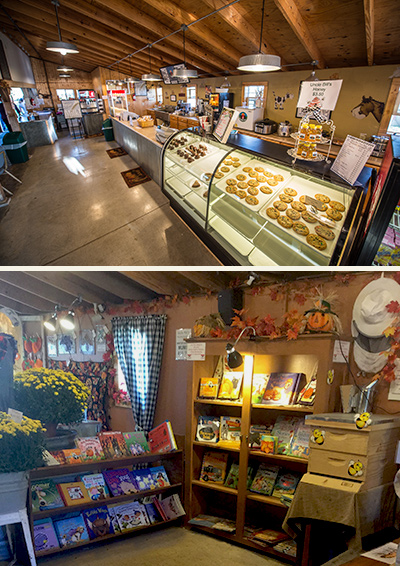 Your visit to Uncle Bill's Farm is also a great time to purchase something special for yourself, a friend or child.
Uncle Bill's General Store offers:
Quality items made by local artisans.
Mums grown by Uncle Bill at the farm
Colorful gourds, mini pumpkins and many varieties of squash
Salsas, BBQ sauces, jams and other canned goodies
Honey made by the pumpkin bees at Uncle Bill's Farm
Large assortment of children's books
Hungry?
Uncle Bill's Feed Bag Restaurant serves:
Fountain Drinks
100% Apple Juices and Milk
Cappuccinos
Hot Cocoa
Ciders (Hot & Cold)
Hot Dogs
BBQ Pork Sandwiches
Chili
Nachos
Cookies
Caramel Apples
Donuts
Popcorn
Kettle Corn